Ways to Prepare your Little One for your Disney World Trip
I love Disney! It can be a little overwhelming to young kids. Here are 12 ways to help get them ready for their first trip to Disney World. Or if they have been before, to help build up the excitement. Your preschooler will love these!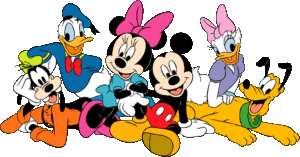 Telling young kids ~ This in itself can be a lot of fun. Take them to their first Disney movie at the movies. Do a picture treasure hunt. Do a whole theme evening at your house. They are little and so easy to please ~ have fun with it. Wait till they are teenagers ~ the little things are just not as exciting to them. Take advantage of this time!
Make a countdown ~ for little ones I have seen a lot of people do a paper chain, they can help make it. I just did a Disney Countdown Calendar . You could print out Disney coloring pages, let them color them, and then use them for decorating the calendar. 
Watch Disney Movies ~ Disney Movie are great for the whole family. If they have not seen many, this is a great way to get them ready for the characters on your trip. Wait till you see their little faces light up when they see their favorite movie character.
Make Mickey Mouse pancake ~ I did this for my kids and now for the little ones I keep during the week. Always a big hit!
Read Disney Books ~ Princesses or All Characters ~ Or maybe Disney books from when you were little. Where ever you get them ~ you can never go wrong with reading.
Listen to Disney Music ~ When you get to Disney World, you will be immersed in all things Disney. The more they recognize, the more fun it will be. If you don't have a CD ~ you can use Pandora (the free version) to listen to music. Or if you belong to  Amazon Prime, take advantage of their free music. 
Souvenir Budget ~ Have you little one help you around the house. They can make a little jar to save the money to buy their own souvenir. This helps them learn about money and makes them feel important. It also might help them not ask for everything. Extra Tip ~ buy cheep little Disney things at home they would like. You can save them for the trip and give them to your little one in place of all the expensive things at Disney. 
Play Disney Games ~ These are great ways to learn to take turns. There are also lots of free games you can download on your phone or iPad for little ones.
Watch Disney Movies ~ refer to #3. I believe you can never watch too many Disney Movies. Make brownies and pop corn for a movie night. Put on your pj's and remember what it was like to be a kid.
Packing ~ Let them help you pack toys for the trip to Disney World. If your driving and have a DVD player, let them help pick out movies too. 
Use utube ~ This is a great tool to help show them a little of what they will see. There are lots of  videos to choose from. You can check out rides, fireworks, or  whatever you think will help them feel more comfortable on your trip. 
Talk to them about if they get separated from you. You hope it never happens, but it does. Come up with a plan for your family. It happened to us. We lost my niece for the time it took us to run to a show. Fortunately we talked about how to find an employee and stay with them. My niece still reminds us of it 13 years later. Always pays to be prepared.