Countdown to Disney
We are 23 days from our next  Disney World Vacation and I'll be honest I am just dying to pack my park bags!! However, when I brought it up to my son Joshua, he looked at me like I was a little crazy. So instead, I will write a post about 25  fun and useful things to do to get you ready for your next trip.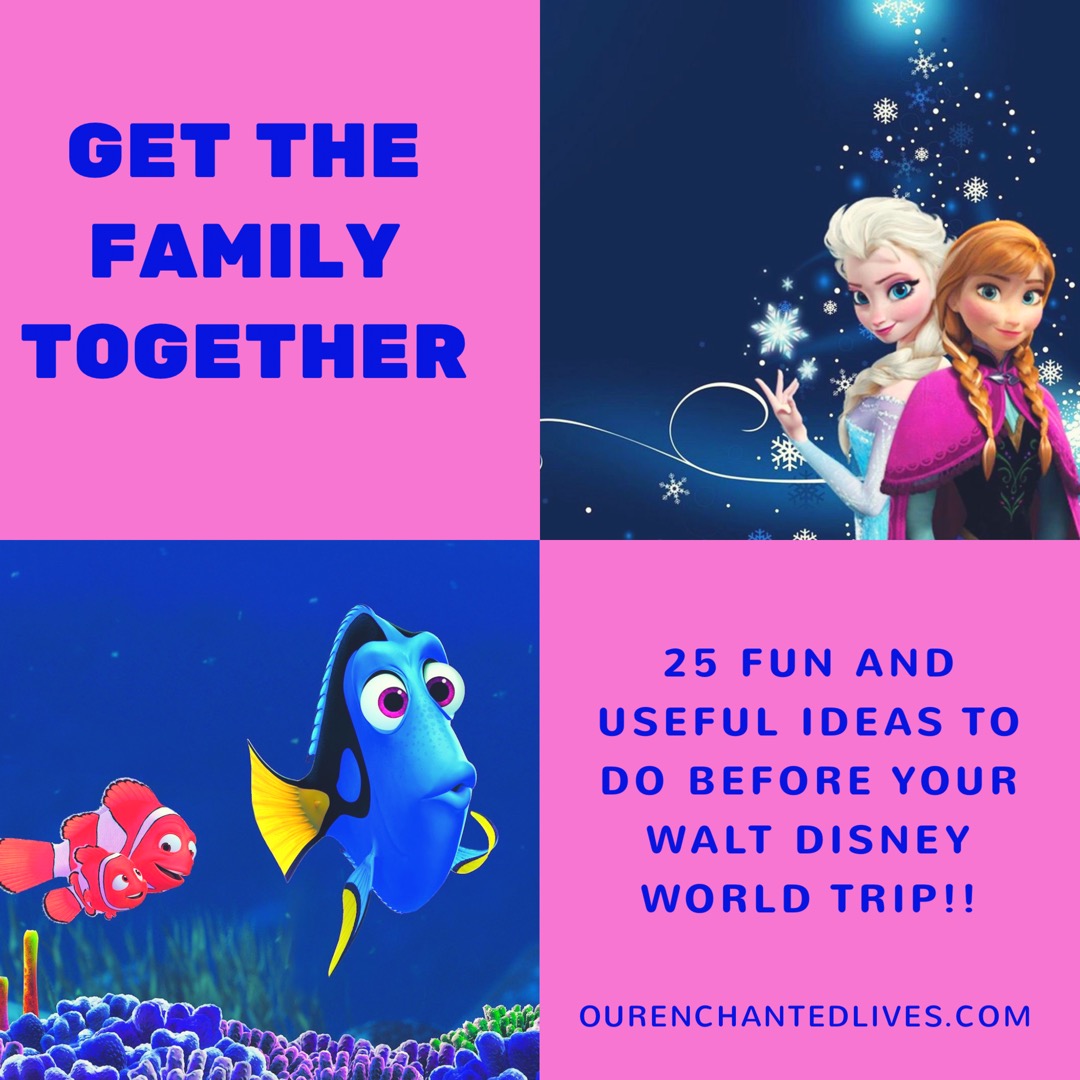 The Month Before Your Disney World Vacation
25. Have a discussion with everyone about snacks you are going to take into the parks. Yes, this is not the most fun but you will thank me when you don't spend $4 for snacks throughout the parks. Yes, $4 is not too much, but take that times 6 of us, twice a day for 7 days ~ that is ( hold on I'm doing the math) $336.00. Quite a chuck of money for muffins and fruit. Amazon Prime Pantry can ship straight to your Disney Hotel. 
24. If you have not been to Disney before ~ I'm sure you have heard about the Disney Pins you can trade. So obviously, if you haven't been to Disney before you won't have any. You can buy what I call starter pins on eBay very cheap. They come in groups, so when you get them,  have the kids sit down and pick their favorites! Don't forget the lanyards to pin them on. I recommend getting them on Amazon. They are way cheaper than Disney prices. Save your money for that special pin at the parks.
23.  Watch a favorite Disney Movie to get everyone in the mood.
22. If your kids are a little older Hidden Mickeys are all over Disney World. It's a good way to pass time while in lines. There are around 1,000 Mickeys hidden. Just a note of interest ~ this all started as an inside joke among Disney Imagineers.
21 . Autograph books-  I bought books from the Dollar Store when my kids where younger and let them decorate them. So it cost me $1 and some stickers instead of $8.  You can also have characters sign your hat, a shirt, or bag. Just remember to bring a sharpie.
20. Go over your schedule together. See if you are missing anything. Also, double check the park hours because they tend to change as you get closer to the date. Remember to schedule some down time.
19. Play a Disney Game as a family. Disney trivia is my favorite.
18. If you have been to Disney before pull out the old pictures and videos and spend some time remembering what a great trip it was.
17. Make Mickey Mouse Pancakes
16. Watch a new Disney Movie you have not seen yet.
15. Download to your phone, if you haven't, all the apps you can use while in Disney. Also add these to your husbands and kids phone. They are extremely useful and that way everyone has the information. You can find my list here ~ I have found these to be the most useful and easiest to use.
14. When my kids were younger I would draw a map of our journey from Pennsylvania to Disney.  As we drove they could keep track of the trip. I guess if you are flying, that could work too ~ include the trip to the airport. It just gives them a visual of how far they are going.
13. I also used a binder and printed pages to keep kids busy. Coloring, word finds, or trivia about Disney. What ever your kids are interested in.
12. Play Disney Scene It DVD game
11 . Need help getting ready for your trip? Have the kids chip in and earn a little Disney Souvenir money for them to use at Disney.
10. Pick out movies and things to occupy everyone on the car trip down.
9 . If you are having an order from Amazon (for snacks or breakfast items)  sent to your hotel at Disney ~ do it now.
8 . Remember to pre-check in to your hotel if you are staying on site. This will save time later on and help you get what you need from your stay there.
7 . Start Packing!! I try to find a place to hold everything we will be taking (or at least some of it). That way I can slowly add things as I go.
6. Pick out clothes
5 . Watch a Disney Movie
4. Pack park bags. I get these ready at home so they are filled with everything I will need in the parks. 
3. Pack up last minute items. 
2. Pack up car
1. Get a good sleep and dream about your trip!!
Affiliate links are used ~ These are just products that I personally like and find helpful