Why is it so hard for us to

celebrate

and

appreciate

our daily lives?
After we have lost someone and felt that pain and heartache that is unbearable, how do we wake up one day and complain about it being Monday. How after being through that kind of pain do we forget how fragile life is. Why do we not appreciate what we have more? 
I have been through this recently. My cousin passed away almost 6 months ago. She was one of three people in my life I ever told anything deeply personal to. Also she helped me become the mother I am today, and I am so thankful to her.  She was only 46, she  had three children, and was one of the kindest people I have known. She was so important to so many and left so many feeling her loss every day.  
 My best friend died 18 years 3 months ago. She was well ~ what can I say……she was my Best Friend. She was 32  with 2 young babies, and she was my person. I miss her just about everyday and wonder how my life would be different if she was still here with me. At her funeral the pain was so bad ~ I remember thinking ~ if I can get through this I can get through anything.
Both deaths were so hard on me.  Both amazing women gave so much to those who loved them. I felt pain I did not know was possible or bearable when I lost them. I have a friend who is going through this right now. My first thought is, I wish she did not have to or that I could take the pain away for her.  That would mean we would live forever and we know this is not true. So each of must go through grief at some point in our life.
So I ask again ~
Why is it so hard for us to celebrate and appreciate our daily lives?
So my question is ~  how after having been through something like that ~ do we not appreciate our everyday lives?  Why am I not more about all the little things? Don't get me wrong, I do notice a pretty sunset or a quiet moments. I just feel like there should be MORE of an inner shift. I am a very lucky women to  have 4 stupendous kids and a wonderful husband. We have always had what we really needed. But I let the  little things sit too much in my head. 
No, we are not rich. Yes, there are things that I want. Things I wish I could give my kids. When I say we should be happy with what we have ~ I do not mean~ take what you have and that's it. I do believe we should strive for more ~ just that we should know how lucky we already are while we are looking. That we should know ~ if our goal today doesn't work out the way we wanted ~ that it's okay, because we are already so blessed.
We should be happy. Not because life is perfect. Not because our vacation is next week. We had to wake up early and maybe we were grumpy to a loved one while they were headed out the door. We must be careful how we live those everyday moments . ~Things happen ~ life is not guaranteed ~ you never know when you might turn around and your life looks completely different than it did that morning. Life is too short ~~ not love our everyday.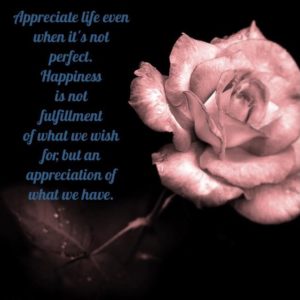 So that is what I want for my friend. I want her to grieve and feel the loss and then hold the happy times in her heart.  My wish is she carries her dad with her every day. I hope she sees his smile in her children. Knows his laughter in the good times, and feels his arms on a tough day. That even though she will miss him every day ~ remembers how lucky she was to have him shape her life. I know I miss the people I have lost in my life and wish they were still here with me. But I am also so Thankful that I had the chance to know and love them while they were here, because I know they made my life better while they were here.