Disney Park Bag Tips
Okay so this is a big deal! Especially if you plan on being in the parks all day.  You do spend a lot on a Disney World Vacation, so you want to make sure you are all set for the Happiest Place on Earth. This will be your lifeline to all your needs and wants (hopefully).  The List may seem long, and maybe YOU can omit a few things, but this is what we take into the parks with us on most days.  This post does include links to most of the items on the list. However, this is just for your convenience. I will say I am cheap and at the time ~ they were the best cost. So here is what a great Disney Park Bag contains. Printable version at the end of the page.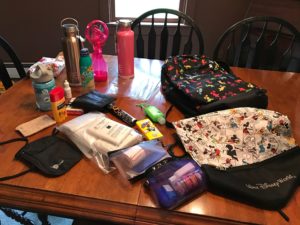 The Disney Park Bag List!!
Park Bags ~ these can be anything you have at home. I prefer backpacks because they are easy. We also use drawstring bags. Depending on how many people you have ~ you may need more than one bag. We usually take 2  maybe 3 if we are in for a really long day ~for 8 of us.

Our Disney Park Bags

Sunscreen ~ Must have! We use it before we head out for the day and take a bottle along for the park.
Money or Credit Card ~ if you use a Magic Band you can hook your credit card into that with no worries.  I usually like to carry a little money around with me.  I use this little

pouch

. It velcros right onto your bra or belt buckle. You can also put your ID in here.
Ziploc Bags ~ these are great for wet clothes, phones, and to keep the sunscreen.
Medicine Bag ~ I found these great clear bags on Amazon. When you go through bag checks – the easier they can see things the quicker you will go through. I include my sons asthma inhaler, pain medicine, band aids, antibiotic cream,  and allergy pills. Whatever your family needs throughout the day.
I use another one of these for deodorant, make-up, and chap stick.
Hand Sanitizer ~I get the one you can clip on to the backpack
Autograph Book and Pen
Pins if you trade them
Tissues
Deck of Cards ~ Or bubbles depending on your children's ages. There is a lot of time waiting for Parades. They help pass the time. 
Hats ~ or sunglasses or both. Don't forget them on the rides! Maybe pack extra in case.  
Glow Toys ~ These are great for nighttime. I get mine at the Dollar Store. FOR A DOLLAR!
Pennies and quarters for the penny press machines. Theses are great cheap souvenirs, that my son loves to collect.

Moleskin

~ I know, I had never heard of it either. You use it like a band-aid for sore feet ~ but it works way better. Grab some kids scissors too.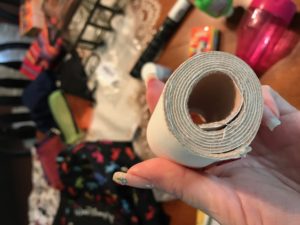 Cooling Towel ~ not most important unless you really hate the heat. Then it comes in very handy.
Last but not least ~SNACKS 
If you are traveling with young kids, you might want to take a change of clothes. I never did, but I have heard stories where I can see the use. I know this seems like a lot. You can get pain medication and basic first-aid care at stations in the park. My thought is you just never know how close you will be to them when you need it and do you want to take the time to run there. I pack our Disney Park Bags up before we leave then we are all set when we get there. Happy packing everyone!
  Just click on the link below for a printable version!!